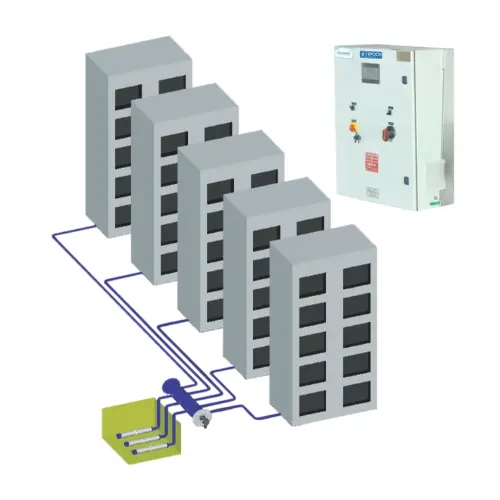 HIGH RISE BUILDING WATER SUPPLY SYSTEM
We offer complete water supply system for High Rise Building Residential / Commercial. Operation of system is fully automatiocie no need of operator. Control Panel utilises AC Drives, PLC, HMI etc. System also saves Electric Energy.
For High rise Residential / Commercial Buildings Submersible Pumps with smart control system is used which offer following features
Inverted Submersible Pumps are ideal choice for supplying drinking water to more than one towers of High Rise residential / Commercial complexes.
Inverted Submersible Pump is selected depending on pressure requirement of system from 25 meter to 100 meter.
Inverted Submersible Pump utilise water till sump bottom ie full water level of sump is utilised.
Water pressure at outlet is maintained to pre required value and only pumps are run which are required to maintain preset pressure leading to Power saving.
When any pump is out of order, other pumps take cares of water requirement and defective pump can be repaired and reinstalled.
We provide urgent after sales services and give back defective pump duly repaired in 48 hours.
System is fully automatic and require no operators for its running.